Yang Liping Performing Arts Center
The new Performing Art Center in the city of Dalí, designed and worn by dancer and choreographer Yang Liping, was inaugurated in 2021.
Dalí, a city in a mountainous region located in one of the poorest provinces of China Yunnan, bordering Vietnam, Laos, Burma has more than 25 national minorities.
Yang Liping, from a Chinese ethnic minority (Bai), is one of the first Chinese dancers to perform worldwide and have gained international reputation.
She became the standard-bearer of Chinese minorities.
Her decision to establish an art center in Yunnan is committed and she is surrounded by an architect, also internationally renowned Zhu Pei.

Architectural and theatre design concepts
The vision of a black theatre, isolated from the outside world considering natural phenomena such as light, sound, and wind as natural enemies has been overturned by Zhu Pei's architectural concept.
He uses this nature as a natural decoration, bringing it into the building in the form of fragments of wood protecting it from the rain and the sun. A challenge that will allow to create new cultural and artistic concepts and new experiences.
This Performing Art Center consists of an outdoor theatre overlooking nature and the mountains, with an organic gradinage and a large hall of 700 seats that we had imagined with an audience gathered around a central stage.
A configuration that led people to look at each other at the same time as they watched the show.
This room will finally be frontal.
The building also contains a small rehearsal room.
With Zhu Pei Studio, we also participated in the Shenzhen Literature and Art Center competition in 2009 and the (abandoned) project of the Xishuangbanna Theatre in 2013.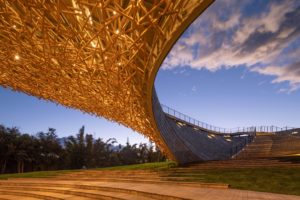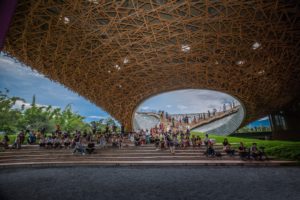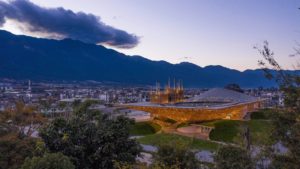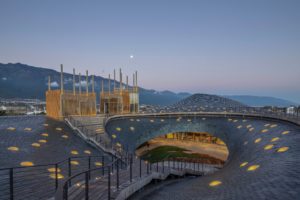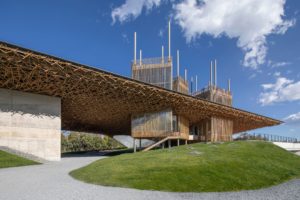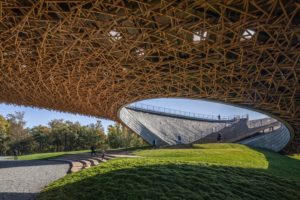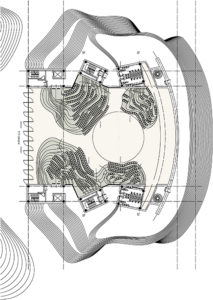 Consultants :
Acoustics : China IPPR International Engineering
Owner : Yang Liping arts & culture co.,ltd.
Press :
Archdaily September 2021 (EN)
Credits : © Weiqi Jin